In our series of questions and answers POPSUGAR Crush, we get to know some of the most intimate details of our favorite celebrities, from their favorite flirty emoji to their most valuable relationship advice. This month, we fall for Jimmy O. Yang.
Jimmy O. Yang is known for his comedic roles on Silicon Valley and in Crazy Rich Asians, but now he's showing a whole new side of himself with Netflix Love hard. The holiday romantic comedy follows a young LA reporter (Nina Dobrev) who tries her luck with love by traveling across the country to spend Christmas with a guy she's paired up with online (Darren Barnet). Everything seems to be going well until she finds out that the guy she messaged to (Yang) is cat fishing. While Jimmy is certainly no stranger to romantic comedies, this is one of the first times we've seen him star, and we need Netflix to cast him in more lead roles as soon as possible.
"It was cool," Jimmy told POPSUGAR of stepping into the territory of a leading romantic comedy man. "There's definitely still some comedy in this movie so it's not lost on, but at the same time I really just dig into humanity and the psyche of why someone would even have catfish and would find humanity in that character, because if that person isn't likable, the whole movie fails. So that was really interesting, even as an exercise in life, because I'm still the funny guy. I'm always joking. on stuff and I can't take a compliment. It's fine for me to even absorb some stuff and try to be cute and charming. "
"For outsiders, a bit like me, there is a chance."
As people watch the film, Jimmy is delighted that they experience "the hope of love". "It's what I feel every time I watch a romantic comedy," he said. "It's like, 'Ah, there's a shot for me over there or there's a chance over there.' For outsiders, much like me, there is a chance. This role was not written to be a particular ethnicity. I think it's super awesome that they present me as an Asian person and my [onscreen] family [is] an Asian cast. At the end of the day, these are the underdogs. "
Just like movies like Crazy Rich Asians changed the landscape of romantic comedies, Jimmy likes the film to shake up the genre. "Our movie turns some of the old tropes upside down and modernizes it, which I really like," he said. "Romantic comedies really define an era. Notting hill, if you look Love in fact, I can go back to when I was in high school. It was the era of romantic comedy. You see Crazy Rich Asians, it's almost like an era of awakening. It reflects or refreshes memories of the great moments in your life. As predictable as it sounds, it's usually always a happy ending. You go through an emotional roller coaster of crying, rooting for someone, being disappointed in someone, and at the end of it I feel like you always come away feeling warm and fuzzy. Read the rest of the upcoming POPSUGAR Crush interview with Jimmy.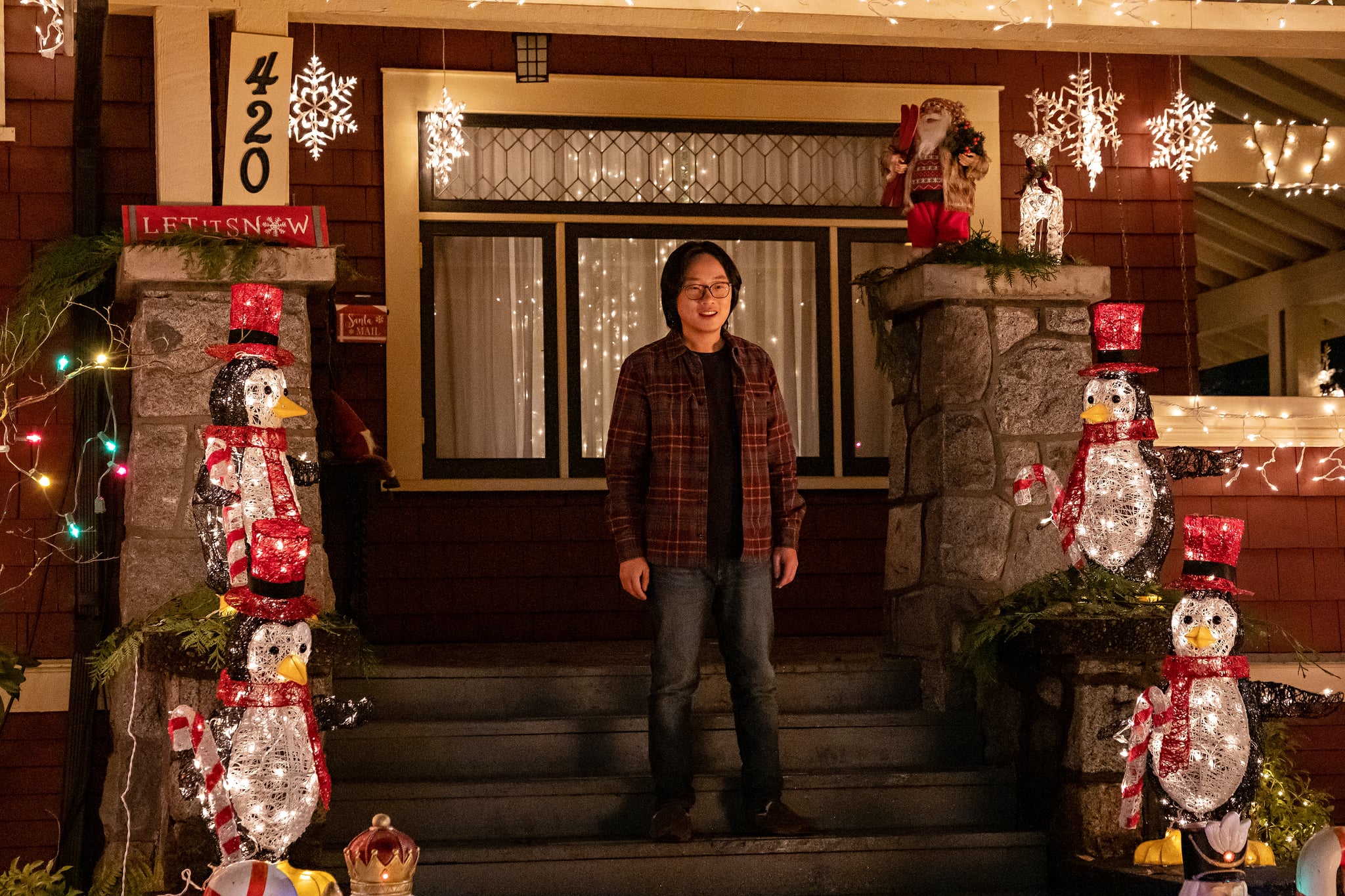 First crush for a celebrity:
I grew up in Hong Kong, so I can name a few Hong Kong celebrities that you don't all know, but my first crush in high school when I came to America was Jessica Alba. I ended up making a movie with her called El Camino Christmas, another Netflix Christmas movie, and she couldn't be nicer. I didn't tell her I had a poster of her in my room.
Preferred pickup line:
As a comedian you try to avoid the pickup lines. So I don't know if I have a favorite pickup line, but [I always like] the classics, super cheesy like, "Are you from Tennessee? Because you're the only 10 I see." I just like a good rhyme.
Preferred form of personal care:
I love to meditate and love to massage with a Theragun or Kraftgun. That's great. I have worked a lot with the Oculus. I also consider Beat Saber with the personal care of Billie Eilish. After that, I let myself meditate and do a low massage.
Dogs or cats:
I am a big dog. I particularly like the pugs. You can follow my pug @toffeestarpug on Instagram. I just think they're so cute. They're like little cartoon characters, so much personality. I do not like cats. I like cats. I love going to other people's homes and petting cats, but I love the excitement dogs have when they see you.
Biggest stop / start:
My biggest disappointment is when people are constantly late or flaky and not on time. It doesn't have to be romantic. It could be an affair or a thing with a friend. I don't really like it at all.
What turns me on the most is someone who has traveled a lot, who wants to eat everything, who is just very cultured. Coming from another country as an immigrant, I'm all about the food. Whether it's Chinese cuisine or anything else, I love learning about other cultures, just like I learn about American culture. So I love someone who is cultured. You don't need to have traveled the world, you just need to be open-minded about things.
What is your coffee / tea order:
I order a plain matcha, no cream, no sugar, just matcha. Every morning I whip up some matcha for myself. Coffee makes me too nervous so I'm definitely a tea guy.
Ideal first date:
Maybe a good dinner. I am a big foodie. A cool joint where you can talk. No loud music. I loved going to this place called Busby's. This is not a full-fledged sports bar, but a small bar with a mini-golf course inside and a Skee-Ball. So I like to see if people are ready to play and have fun and not be tense.
Best love advice:
Going with the theme of the movie, and I really believe it, is not lying and being honest with other people, but also being honest with yourself. Have confidence in yourself. Everyone has their flaws, whether they're not sure about their looks, their personality, or anything. There is someone who would love you for that. So be honest with who you are.
Most romantic thing you have ever done:
I'm not that romantic, I guess. I just went to Cleveland with my girlfriend for her brother's wedding. It was fun spending time with her, spending time with her parents. I would like to think that I made a lot of sacrifices this weekend. We had to take the Spirit Airlines plane as it was the only direct flight to Cleveland at the time. So that in itself was a huge sacrifice, having to sit on Spirit Airlines seats that you can't recline on to hang out in my girlfriend's hometown.
Favorite rom-com:
I really love all of Rich Curtis' romantic comedies. I like Notting hill. It's such an amazing story. You really have to suspend your disbelief, but it's so beautifully done. Julia Roberts will always be one of my favorites. Maybe she was one of my first childhood crushes.
Favorite holiday song to sing during Christmas carols:
I like modern stuff. I love Mariah Carey's song ["All I Want For Christmas Is You"] Where ["Last Christmas" by] George michael. Now it must be the "Baby, It's Cold Outside" remix that me and Nina [Dobrev] sang [in the movie]. We actually had to record this in a studio and then lip-sync with our own recording later. So it was really interesting. It was my first real recorded song I ever made.